Enrollment for Bump to Birth is currently closed.
Join the waitlist for when the
Bump to Birth Method (2.0) online program
becomes available this summer 2021!
Are you wanting to prepare your pelvic floor for birth?

Are you wondering if there's more you can do than Kegels (and even if Kegels are right for you?)
Are you struggling with pelvic girdle pain or leaking pee in your pregnancy and want to address it before birth?

Are you wanting to prepare for this birth to go smoother than your first?
Are you concerned that your body won't be physically ready for birth and that you should be doing more?
Are you aware of breathing techniques and different ways to deal with the labour pain, but feeling overwhelmed with looking up all the different methods out there online?
Are you wanting to feel prepared and have less fear about the pushing phase of birth?
Are you wanting to prepare for your postpartum recovery while you're pregnant?
Yes? I can't wait to show you how...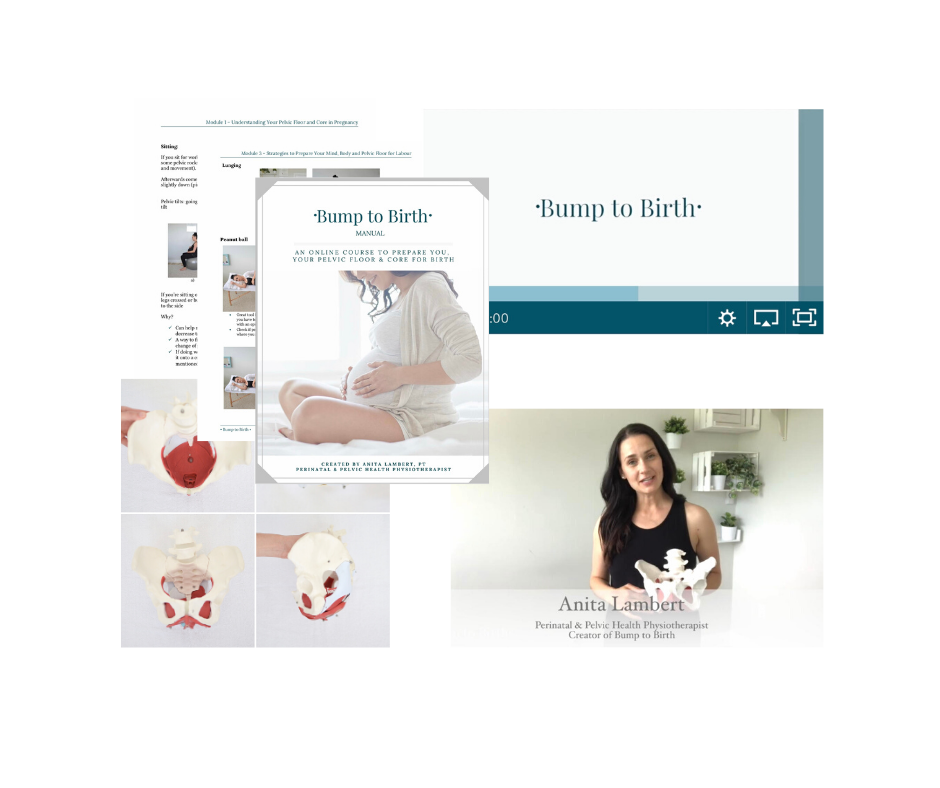 Bump to Birth is an online course created by a perinatal pelvic health physiotherapist to guide you step by step to understand and connect to your pelvic floor and core in pregnancy so that you feel confidence and prepared physically AND mentally for birth which will give you a head start on your postpartum recovery!
When you enroll in the Bump to Birth course you'll receive:
Printable course handouts to compliment each lesson to guide you what key take aways you can start right away to help you prepare your body and pelvic floor for birth (not just traditional kegels) plus questions to ask your care provider, support team, partner AND more!
MODULE 1- Understanding your core and pelvic floor in pregnancy
MODULE 2- Connecting to your core and pelvic floor in pregnancy
MODULE 3- Strategies to prepare your mind, body and pelvic floor for labour
MODULE 4- How to support you and your pelvic floor during pushing
MODULE 5- Recovery plan for first 6 weeks postpartum
Bonuses :
Pelvic girdle pain exercises, tips and strategies for a more comfortable pregnancy.

Willow at Home – Pelvic floor & Core yoga/pilates online class with pregnancy and postpartum options.

Expert interview about Prenatal Strength Training including pelvic floor and core considerations + 3 strength training workouts with Jessie Mundell, pre/postnatal fitness coach.

Partner Labour Prep Workshop so you AND your partner feel prepared and confident going into birth

Pregnancy & birth affirmation/meditation audio Track by Dr. Maryska Taylor, Naturopathic Doctor and Doula – (includes pelvic floor relaxation cuing)

Birth preference template

Hospital birth bag & Home birth bag checklists

6 week postpartum recovery exercise series

Postpartum recovery meditation created by Mit Stone, L&D nurse, virtual doula and mindset coach
Access to members only private online support community including monthly group Live Q&A sessions with creator of Bump to Birth, Anita Lambert, perinatal and pelvic health physiotherapist, during your pregnancy and early postpartum recovery (access for 6 months from when enrolled in course).
** The next version of the Bump to Birth Method Program will include weekly (instead of month) group accountability sessions.
Your Instructor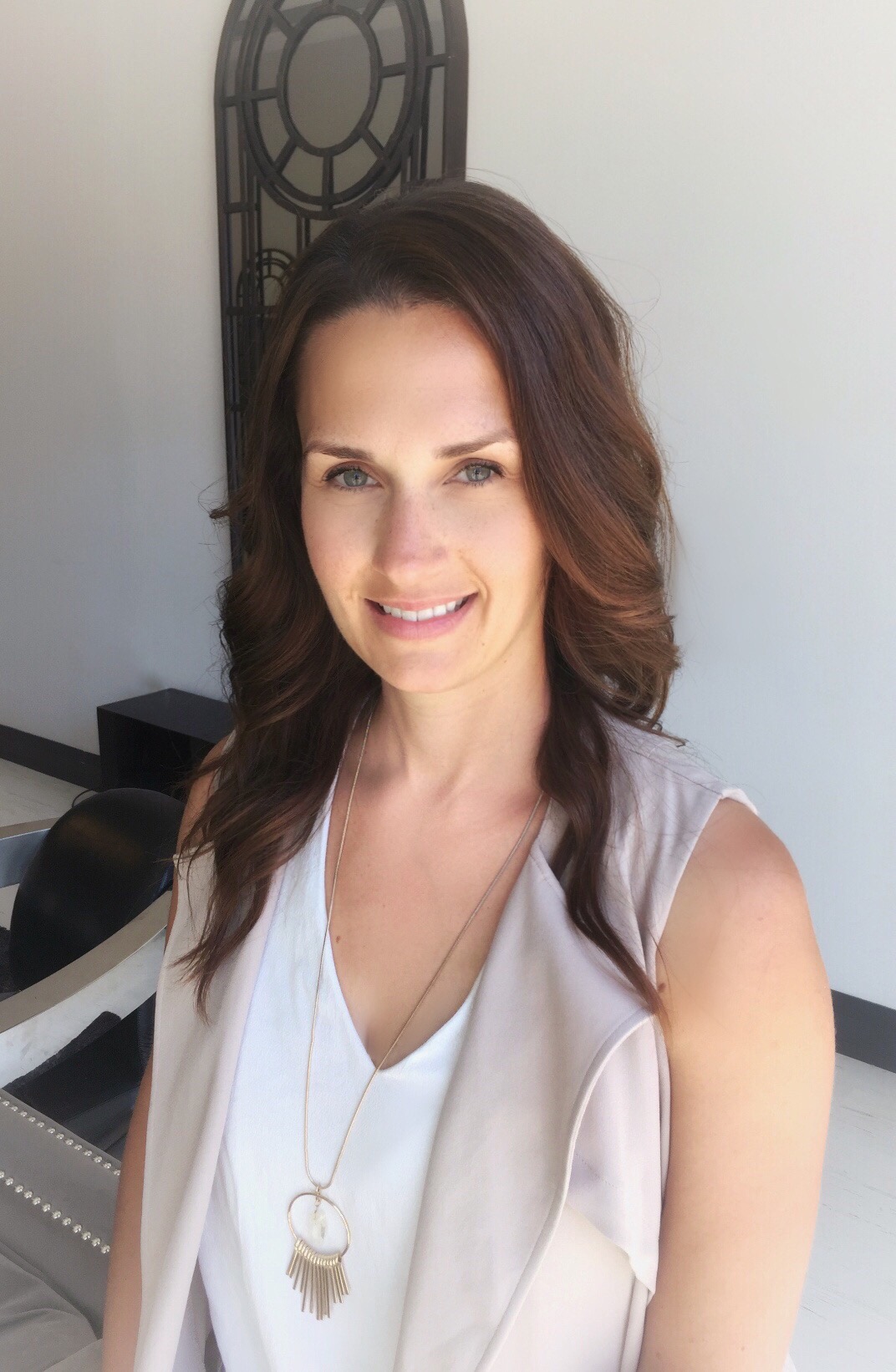 Anita Lambert, PT, MSc (PT), BKin (Hon), NCPT
Hi, I'm Anita Lambert the creator of the Bump to Birth course, owner of Holistic Health Physiotherapy and co-host of the To Birth & Beyond podcast. I'm a mom of two, a pelvic health and orthopaedic physiotherapist with a focus on prenatal and postpartum care and am one of the select few physiotherapists in Canada to complete physiodoula training which blends orthopaedic physiotherapy expertise and birth doula support and now assists this course for other physiotherapists in Canada.
I'm passionate about helping you connect more with your body including pelvic floor plus keep you active and comfortable during pregnancy while you prepare for birth which will give you a head start on your postpartum recovery.
Having gone through two pregnancies, births and postpartum recoveries myself, I know how confusing information can be online about pregnancy exercise, pelvic floor health and preparing for birth. Generally the only information given is to do hundreds of Kegels and maybe perineal massage.

I hear daily from expecting and new moms "why did no one tell me?' about what our body might experience - whether aches, pains, leaking urine with exercises or vaginal tearing or recovering from a Cesarean birth. No one can guarantee how your birth will go. However having worked with hundreds of expecting moms in my physiotherapy practice plus going through my own experiences, I've seen how working together with your body (rather than against it or ignoring it) benefits not only you in pregnancy but also during birth and your postpartum recovery. This is why I created the Bump to Birth course!

"I feel more at ease going into this third birth experience. I know my options, how my consent and advocacy is just as important as the physical part of birth, but also how to manage symptoms. I have confidence in my body and my mind that I'll have a positive birth experience even if it doesn't go according to my preferences. I've had symphysis pubis pain (SPD) in my two previous pregnancies and so far have been able to avoid acute symptoms with the help of the relaxation poses for pelvic pain in the Bump to Birth course."
- Martine C, 24 weeks pregnant
"I feel a lot more prepared for this birth. I didn't get the opportunity to go into labour and have my baby naturally the first time due to her being in a breech position so I am hoping this time around will be different. I have been so mentally prepared for all the various ways things can happen that no matter what route we go I will go into it confidently and with an open mind.
At this stage in pregnancy I'm already treating my pelvic floor mindfully and am preparing it each and everyday through simple day to day activities. I struggled a lot in the beginning with pelvic pain, I have been practicing the exercises and postures which has helped tremendously compared to my last pregnancy!
Anita provided us with so many invaulable tools to prepare for birth that I feel so much more calm, confident and at ease about everything in this pregnancy. "
- Jenny W, 23 weeks pregnant with 2nd baby
"It's been so helpful to learn about pushing, tearing and birth interventions – I feel more prepared for my second birth. I wish I had this knowledge with my first!""
- Amy H, 15 weeks pregnant, 2nd time mom
The Bump to Birth course is for you if you're ready to...
feel more calm and at ease in pregnancy

feel more comfortable at each stage of pregnancy and have strategies to address pelvic girdle pain

feel more connected and understand how to prepare your pelvic floor for birth (and get a head start on your postpartum recovery)

feel more prepared physically and mentally for birth

feel better equipped knowing what relaxation strategies you could use during labour

have less fear and more confidence surrounding the pushing phase for this birth

have a plan about how to tackle the first 6 weeks postpartum
"This program has influenced the way that I approach the pelvic floor discomfort I have experienced in my pregnancy. Now that I understand to a greater degree how my body is coping with pregnancy, I feel that I have tools to address these issues with hope. I learned that I can take back some control during pregnancy to stay informed and ask for help regarding any issues that arise. I feel encouraged to practice pelvic floor exercises that will ultimately help me prepare for birth. I'm also so thankful for the postpartum content Anita provided!"
- Marilee F, 33 weeks pregnant, 1st time mom
"I know that you can never be too prepared for birth. The information in the Bump to Birth course including various breath techniques and labour and birth positions are invaluable in my future birth. I absolutely feel more prepared!"
- Hayley C, 24 weeks pregnant, fourth pregnancy
"I really enjoyed the Bump to Birth program and found all the information on labour, birth positions, how to do perineal massage and preparing the pelvic floor for delivery really useful. I've struggled with pelvic girdle pain and found the exercises made such a difference! After seeing a pelvic health physiotherapist in person - it turns out I need to focus on relaxing my pelvic floor rather than strengthening it - something I would not have known if Anita hadn't encouraged this. I'm now using all the pelvic floor relaxation suggestions from Anita to better prepare for labour."
- Emma J, 31 weeks pregnant, 1st time mom
7-Day 100% money back guarantee
I stand behind the Bump to Birth course and want you to be 100% satisfied with your decision to enroll. Try the course risk free for 7 days and if you're not satisified, send me an email and I'll refund your money. So you've got nothing to lose!
Frequently Asked Questions
If I'm already seeing a pelvic health physiotherapist is this course still useful?
For sure! A number of expecting moms have gone through this course while seeing a pelvic floor physiotherapist and found it was useful having video and audio teachings to solidify what they've learned in physiotherapy sessions or was the perfect addition to information not discussed in their sessions. While every pelvic health physiotherapist is trained in assessing and treating your pelvic floor and should be connecting with your entire body, not all pelvic health physiotherapists have done any or extensive training in prenatal care, birth prep and labour support.
Will I have time to complete the program?
Yes and I'll be supporting you along the way in the bonus course private facebook group! The program video/audio content with bonuses is 8 hours and each lesson is between 3-20 minutes to make it easier to learn and manage your time with how busy life gets.
Can you guarantee I won't tear during birth?
No one can guarantee that you will not tear or how birth with go however you will learn various factors involved with tearing and ways to minimize tearing as well education to recover after a tear.
I'm near the end of my pregnancy. Is it too late for me to go through the course?
Never too late! The course and bonuses are 8 hours that you can go through at your own pace.
How long do I have access to the course once I buy?
You have ongoing access! Which means as long as the course is offered – you have access to the program PLUS the members only private facebook group with monthly live group Q&A sessions with Anita during your pregnancy and early postpartum recovery.
How much support will I get from Anita?
Anita will be answering general questions about the course content within the private Bump to Birth course Facebook group along with monthly live group Q&A sessions. (Individual diagnosis and treatment will not be provided as this is an online course for general educational purposes).
Is Anita Lambert my physiotherapist if I take this course?
No. This course is for general educational purposes only and does not establish a physiotherapist- client relationship between you and Anita Lambert. This course compliments seeing a pelvic health physiotherapist in person who can give you specific information and guidance around your pelvic floor, core and any symptoms you're experiencing.
"The pelvic floor strategies from the Bump to Birth course helped me be able to empty my bladder more completely in pregnancy, reducing the many extra trips to the bathroom – big win!
This course made such a difference in my second birth. I was able to articulate my fears about labour and birth to my husband with the information from module 3 and I used the birth preference document to help me go through a lot of different potential labour scenarios in my mind. This made it so much easier to face something that was not my preference and stay present in the moment.
I used a lot of the comfort measures in labour from the course which I didn't know were options in my first birth. The bonus birth affirmation meditation track that I listened to daily during pregnancy helped me stay present during our drive to the hospital while in labour and not get too caught up in the pain and what would happen next.
When it came to pushing, I was able to connect with my pelvic floor while taking direction from my midwife. Before this course and seeing a pelvic health physiotherapist, I couldn't even describe where my pelvic floor was never mind using it during birth. Such a wonderful gift - thank you!"
- Jen K, mom of 2
You deserve to have a comfortable and active pregnancy.

I want YOU to see how incredible and resilient your body is in pregnancy, during birth and postpartum.

You deserve to learn up-to-date and evidence informed education abouyour pelvic floor and core that's rarely talked about and have a head start on navigating your postpartum recovery.

Join the Bump to Birth community with other like-minded pregnant moms so you can get the support you want and need as you prepare for birth.

~Anita
Perinatal, Pelvic Health & Orthopaedic Physiotherapist
Creator of the Bump to Birth Course
DISCLAIMER
This Bump to Birth course has been designed for any stage during pregnancy for the general pregnant person. Information, advice and material given is from research evidence, personal and clinical experience and should not be considered medical advice or instruction. The Bump to Birth course does not provide individualized medical assessment, treatment or advice and is not a medical service.
Bump to Birth is a course created by a physiotherapist but is not considered to be physiotherapy assessment or treatment. This is a program for the general pregnant person but does not replace an individual assessment by a pelvic health physiotherapist, your physician or midwife. If you have questions/concerns pertaining to your body during pregnancy, consult your physician, midwife and pelvic health physiotherapist.
All physical activity carries the inherent risk of injury. If you engage in any exercises in the Bump to Birth course, you agree that you do so at your own risk. Your voluntary participation in these activities, assume all risk of injury to yourself, and agree to release and discharge Anita Lambert from any and all claims.
Results of the Bump to Birth course may vary depending on adherence to program and the many uncontrolled factors involved with birth. The Bump to Birth course and Anita Lambert does not guarantee any specific pelvic floor or core results at any point during pregnancy, birth or at any point postpartum.